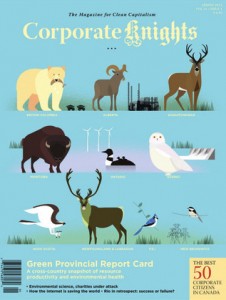 The growth and maturation of corporate citizenship is often dependent on the availability of tools, timely research, shared experiences and above all, a community that recognizes leaders from laggards. Whether on the global stage or here in Canada, few contribute to the discourse of corporate sustainability quite like Corporate Knights (CK).
Known for its various rankings of corporate sustainability performance, CK offers more than its well-known Best 50 Corporate Citizens or the Global 100 Most Sustainable Corporations reports. A media, research and financial products company, it is also about driving an honest dialogue on all things Clean Capitalism. A term coined by the organization, it refers to "an economic system in which prices incorporate social, economic and ecological benefits and costs, and actors know the full impacts of their marketplace actions." [1]
What makes Corporate Knights a CSR "enabler"? This fourth blog in an ongoing series will aim to provide a brief summary of some of CK's contributions this past year.